parker domnick hunter
If a filter cartridge relies upon particulate removal throughout the entire thickness of filter media it is termed a depth filter. Often the filter media in this style of cartridge is graded in density such that coarse particles are removed at the surface and finer particlate is removed at the typically denser core. This type of product is available in nominal and absolute ratings.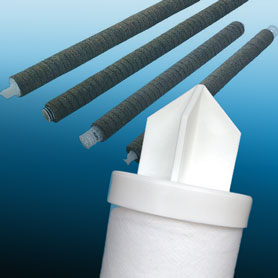 Depth Filter Cartridges - PDF downloads
APPLICATIONS:
Air & Gas
Process Liquid
Food & Beverage
Pharmaceutical
PDF
Product
Application
Material
EC Food Compliant
Micron
Length
Avasan
Nominal melt blown polypropylene
No
1 - 75
to 40"
DuraBond
Nominal bonded polyolefin
No
1 - 100
to 40"
ProBond
Nominal phenolic resin/acrylic fibre
No
2 - 75
to 40"
Spunflow QA
Absolute bonded PP or polyester/nylon
0.5 - 120
to 40"
Spunflow QE
High efficiency (99%) melt blown PP
3 - 75
to 40"
Spunflow QN
Nominal melt blown polypropylene
0.5 - 250
to 40"
We are your one stop shop for all your process filtration, separation & hydrocarbon products.
Call today for advice and a quotation - 01422 377367